The Mexican Pacific League appears to be pretty thin in terms of interesting fantasy options.  But there are a pair of highly ranked prospects and a couple of prospects who saw time in the Majors last season and could have some potential as a $1 play.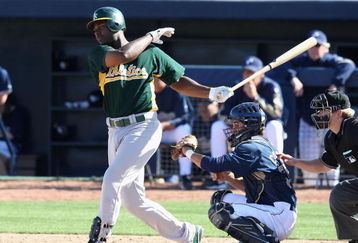 Minor Leaguers: The best prospect in Mexico is Oakland's Chris Carter.  We think he's the 20th best prospect in baseball and on the verge of making an impact on fantasy rosters.  He destroyed AA last year and earned a late promotion to AAA.  He's not playing well in Mexico so he will probably start 2010 in AAA.  However, he has serious power and the A's have no real first baseman so he could contribute in 2010 (and I've read some think he will be a serious AL Rookie of the Year candidate too) and be the man in 2011.  Grab him now and hope that you see some of those HRs this year.
Another prospect in Mexico that has been the subject of many recent headlines is Michael Taylor.  He's having a pretty good year in the Mexican League and he has a chance to make the A's Opening Day Roster depending on the rest of their off season moves.  He'll probably start the year in AAA but he should be up to the Majors at some point in 2010 and should be a solid contributor by 2011.  To read more about him go here and here.
One small move made during the Hot Stove Season was the Blue Jays claiming infielder Mike McCoy off waivers from the Rockies.  McCoy, who is already 28, hit .307 with 2 home runs, 27 doubles, 52 RBI and 102 runs scored at AAA last season. He also stole 40 bases and finished the year with a .405 on-base percentage.  He has kept it going in Mexico hitting .294 with 24 SBs and more walks than strikeouts (.398 OBP) in 54 games.  I've never heard his name before and he hasn't been on any prospect lists that I've seen but those are some pretty decent numbers.  The Blue Jays are in full rebuilding mode after having dealt Halladay so we could see a lot of movement on their roster as they give guys in AAA a chance to show if they could be Major Leaguers.  Plus their infield is set for the short term only.  So I think McCoy is worth following, mainly because no else is following him, and who knows, he could be a cheap source for SBs.
Major Leaguers: Jeff Samardzija is a big name so I'm guessing you won't get him for a $1.  But after two season his prospect status has chilled and his exact role hasn't been set so that uncertainty may enable you to get him on the cheap.  Even though he only started 2 games in 46 appearances over the last two seasons some see him as a starter.  So far in Mexico all of his appearances have been starts, going 2-0 with an ERA of 2.25 with 22 Ks in 24 innings through five starts.  Those are pretty solid numbers and may encourage the Cubs to use him as a starter next season.  He is currently sixth on the rotation depth chart behind Randy Wells and Tom Gorzelanny.  With a good spring training he has an outside chance to win that fifth spot but he'll be on the Opening Day Roster either way.  To be honest I have mixed feeling about Samardzija's long term potential and we don't rank him in the Top 100 Prospects.  But if you can get him cheap he could be an interesting player if he can make the rotation.

John Mayberry is an outfielder for the Phillies who saw a little time in the Majors last season.  His overall numbers last year were not great but he is having a good season in Mexico.  In 38 games he is hitting .313 with 7 HRs, 23 RBIs and 24 Runs.  Because the Phillies organization have so much depth in the outfield Mayberry will continue to be a fringe 4-5 OF.  He's an interesting player because I think he could be a contributing bench player who could flourish with a starting spot.  If he makes the Opening Day Roster I think he's worth $1 and who knows you may have just bought a Melky Cabrera.
Adam Rosales had a cup of coffee with the Reds in 2008 and almost half a season worth of at-bats with the Major League club in 2009.  His numbers were not great in 2009 (he batted only .213 with 4 Hrs, 19 RBIs and 23 Rs) but he hit .349 in AAA with almost as many walks as strikeouts.  So far he has made a strong appearance in Mexico hitting .296 with 55 Runs and 32 RBIs in 57 games while playing LF (his usual position is 3B).  The Reds are currently cutting payroll and few positions are locked up.  He will definitely make the team as a utility player so he could be a great $1 buy who won't kill your batting average and could provide some other numbers too.