January 28, 2010 seemed like an ordinary day to most people.  But for me, and I'm sure for many of you, that day was so much more.  It marked the arrival of Baseball America's 2010 Prospect Handbook.  If you don't have it I wholeheartedly recommend it.  It provides information on the top 30 prospects for each organization and contains a nice little bonus of a couple of its editors' top 50 prospects lists.  In addition to the Prospect Handbook, Keith Law's Top 100 Prospect List was unveiled last Thursday.  With this, much anticipated, influx of information on prospects it got me thinking about the up coming farm draft of my fantasy league.  In my fantasy league, as is probably true in your fantasy league, roughly 25-30 of the prospects in most top 50 lists have been long gone.  So here's how I approach the draft and a look at who is worth targeting with your first pick.
When I draft farm players I always use my first pick to get the best talent available however, I would never draft anyone that I thought was more than three years away.  For instance, if you don't think that prospect has a serious chance of becoming a fantasy contributor by 2012, why bother.  I think it's a waste because if you draft right you should get a shot at two prospects during that same time giving you more opportunities for cheap renewals.  That's why I use my second pick (and especially my third pick if I have one), when most of the projected stars are gone, on the most talented player I think will get called up that year.  Below is how I rank the top 10 available prospects in my fantasy league, players I'm considering taking with my first pick.  My next article will cover whom I'm considering with my second and third picks.  If you have any input on the players below and if they're worth a number one draft pick please share.
1.     Starlin Castro  (SS – CHC)  Castro crashed onto the scene this past season after a good showing in AA and an amazing performance at the AFL.  Playing in AA and the AFL as one of its youngest players he was able to more than hold his own with his bat and scouts have always appreciated his glove.  Some question his power potential in the Majors but he's still young and will fill out more.  The Cubs have him fast tracked to the Majors so he may see time there in 2010 but he will definitely be competing for the starting SS spot in 2011.  Most scouts see him as a perennial All-Star but maybe not quite a Hanley Ramirez.  Even still, I'd use my first pick to take an impact SS bat who could be up by the end of 2010 and will have the starting gig soon.
2.     Martin Perez (SP – TEX)   Perez is another youngster turning heads and some scouts consider him to be the best left-handed prospect in baseball.  He was the South Atlantic League's #1 prospect in 2009 but got roughed up when he was promoted in August to AA.   Most think he got nervous when he was promoted to AA but he has a plus fastball and plus curveball.  He's an aggressive lefty and has drawn comparisons to Johan Santana.  With several plus pitches he is predicted to be competing with Neftali Feliz to be the #1 starter for the Rangers by 2011 but could be up as early as this September.
3.     Casey Kelly (SP – BOS)   Kelly is another pitcher with the potential to be a top of the rotation starter.  He has a solid-average fastball and a potential plus curveball and changeup.  Some have him ranked above Perez.  He has great command and is very polished on the mound, so much so that some think he could hit the Majors in 2010 or 2011.  I put him behind Perez because the Boston Red Sox are flush with pitching.  They are in no rush to get him to the Majors even though some believe that his stuff will force the issue.  I hope he does because he seems to be a tremendous talent but I can't rank him higher because I don't wnat to be held hostage by the Red Sox organization.
4.     Michael Taylor (OF – OAK)  Michael Taylor found his way to Oakland as the last part of the Roy Halladay fall out when Toronto traded him to Oakland for Brett Wallace straight up.  Deep Leagues has been following him for awhile and you can read more about him here and here.  We like Michael Taylor because he is a serious athlete at 6-6, 250 pounds.  He's a good hitter in that he draw walks, hits for a high average and hits the ball to all fields.  He's also a solid defender which helps his chances of getting to the Majors and staying once he gets there.  While the A's may have a plethora of outfielders none of the really standout so Taylor should make it to the Majors at some point this season.  And if he can add some loft to his swing he has a serious chance of being a 30-30 man.
5.     Dee Gordon (SS – LAD)  Some scouts argue that Dee Gordon will ultimately be better than Castro as a SS in the Majors but the major knock on him is that he is a bit of an unknown.  He didn't start playing baseball till late in high school so he is still developing his instincts for the game.  He does have Castro already beat in one category, stolen bases, as he stole 70+ last year in the Minors, his speed is out of control.  That's not to say he doesn't have a bat as he has above .300 so far in the Minors but he'll need to learn to recognize pitches better to be an effective lead off hitter.  He can drive the ball from gap to gap and scouts believe that he'll have legit middle infield power in the Majors when he fills out.  He's a tremendous athlete and he has incredible upside but he's still raw.  The trouble with prospects is that in most leagues you have a set contract term and you're not sure what you'll get from them when they are first promoted to the Majors.  I have Castro ahead of Gordon because I believe his overall game is more polished and will contribute more to your fantasy team from the get go.  To be honest I would be happy with either on my roster but right now I'd take Castro over Gordon.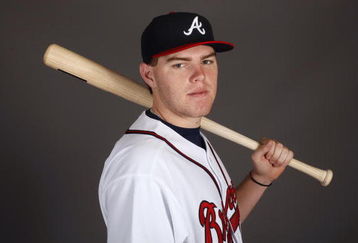 6.     Freddie Freeman (1B – ATL)  Freeman has progressed throughout the Braves system at the same clip as Jason Heyward but he'll probably spend one more season in the Minors before joining Heyward in Atlanta. (Note: if Jason Heyward is available in your league take him over everyone on this list.  He's that good and ready to go now.)  Freeman has a fluid swing that scouts think will turn from its current doubles power into home run power once he fills out and gains experience.  He's known for being a RBI machine at each level he's reached, stepping up his game when runners are on base.  One knock is his approach at the plate which doesn't lead itself to many walks and thus a low OBP.  He's more than adequate defensively at 1B so it's not as if the Braves would be hiding him there.  The feeling is that the Braves are keeping 1B warm for Freeman to take over in 2011 but if he starts this year out well, who knows.
7.     Lonnie Chisenhall (3B – CLE)  Chisenhall is best known for his lefthanded swing. He may not have plus raw power but he did have 22 HRs between A and AA last season.  He will return to AA as one of its youngest players but he could move quickly.  Besides his swing he doesn't have any other tools that blow you away but that isn't to say he's bad at any other facet of the game.  He started out as a SS but has handled the transition to 3B and should stay there in the Majors.  With Cleveland in full rebuilding mode and only Johnny Peralta currently ahead of him in Cleveland he could make the jump all the way to the Majors in 2010 but look for him to claim the starting 3B job in 2011.
8.     Mike Montgomery (SP – KC)  When considering Montgomery I thought that maybe Aaron Crow should be on this list instead as Crow might make it to the Majors first.  While Crow might make it to the Majors first there is a chance he will do so as, and maybe become, a reliever/closer.  (Note:  While I like Drew Storen I don't draft relievers because their real value only comes if they are the closer and there are too many variables to predict with much certainty that a reliever will in fact become the closer and when that will happen.)   So even though Montgomery may not have a real shot at the Majors till 2011 he has a plus fastball and throws two different curves.  Baseball America considers him a complete package who will be a #2 starter only because Grienke will be the #1.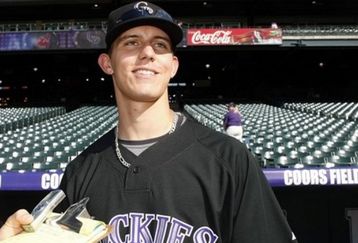 9.     Christian Friedrich (SP – COL)  A potential front of the rotation starter, Friedrich has four pitches that are at least solid-average, including a plus curve and slider.  He throws a fastball that tops out at 95 mph and once he can locate it more consistently he should jump to the Majors.  He'll begin 2010 in AA and the Rockies will want to make sure that he is fully recovered from elbow inflammation that cost him some starts in 2009.  He turned into a strikeout machine last season and if he doesn't get the call this season he will most definitely be contending for a rotation spot in 2011.
Honerable Mention:  Ryan Westmoreland (OF – BOS), Brett Lawrie (2B – MLW) and Tyler Matzek (SP – COL).